A new exhibition of ceramics by Maria Wojdat and Sara Moorhouse is coming to the Contemporary Ceramics Centre in central London this June. In anticipation of the exhibition, we interview the two makers on their hopes for the show, their making processes and where they draw their inspiration from.

.
Maria Wojdat


What are you looking forward to most about the exhibition?
I'm really looking forward to exhibiting alongside Sara and seeing how our different approaches to using colour complement each other.
How did you get into making?
I did a little bit of clay work as part of my A level art exam but then came across it again when I was working as a graphic designer for a design consultancy.  The owner of the agency was also an educator and was keen for his designers to have experience of a broad range of art forms. We had poetry evenings, painting lessons and talks about ceramics and makers that he loved. Plus there was access to materials and a kiln – that's when I first took a real interest and started making in clay.  Later, as the graphics industry changed from drawing boards to computers, I realised I missed using my hands and making things. That realisation led me to start putting more time into ceramics, which eventually led to me giving up graphics and doing an MA in ceramic design at Bath Spa University.
Where do you draw inspiration from?
Inspiration comes from many and varied sources. I particularly love modernist design and architecture, such as the work of Oscar Niemeyer  and Arne Jacobsen.  In contrast, the spontaneity in Abstract Expressionist painting has been inspirational; particularly Robert Motherwell and Minimalist sculptors such as Donald Judd, Richard Serra and Carl Andre. 
My training and work as a graphic designer is a major influence. The precision I learned when creating artwork on a drawing board combined with the organic nature of clay is the basis of my work in ceramics.  Line has always been important; from being a small child watching my father, a structural engineer, draw perfect black lines on his technical drawings, to making my own as a graphic designer producing artwork for print. Now I attempt to create equally perfect lines in three dimensions around a form. They are an exploration into finding the balance between spontaneity and control and the relationship between the geometric and the organic.
Can you describe your making process?
I am quite experimental in my process and like to explore different ways of making, constantly seeking new and better ways to realise my ideas.  I mainly hand-build and at the moment I make cylinders: geometric forms that I then cut, slice, re-join and shape to create forms which are more organic.  It is the process of working in this way and seeing the form emerge that holds my attention. It is important to me that this is a slow process that gives me the opportunity to assess and make changes to shape and line as the piece develops.  I use colour to divide and segment the surfaces. Once bisque fired, the pieces are masked and sprayed with vitreous slips, each colour having a separate firing.
What advice would you give anyone looking to get into making ceramics?
Take a class. It's a good starting point to find out what ceramics is all about and what you want to do.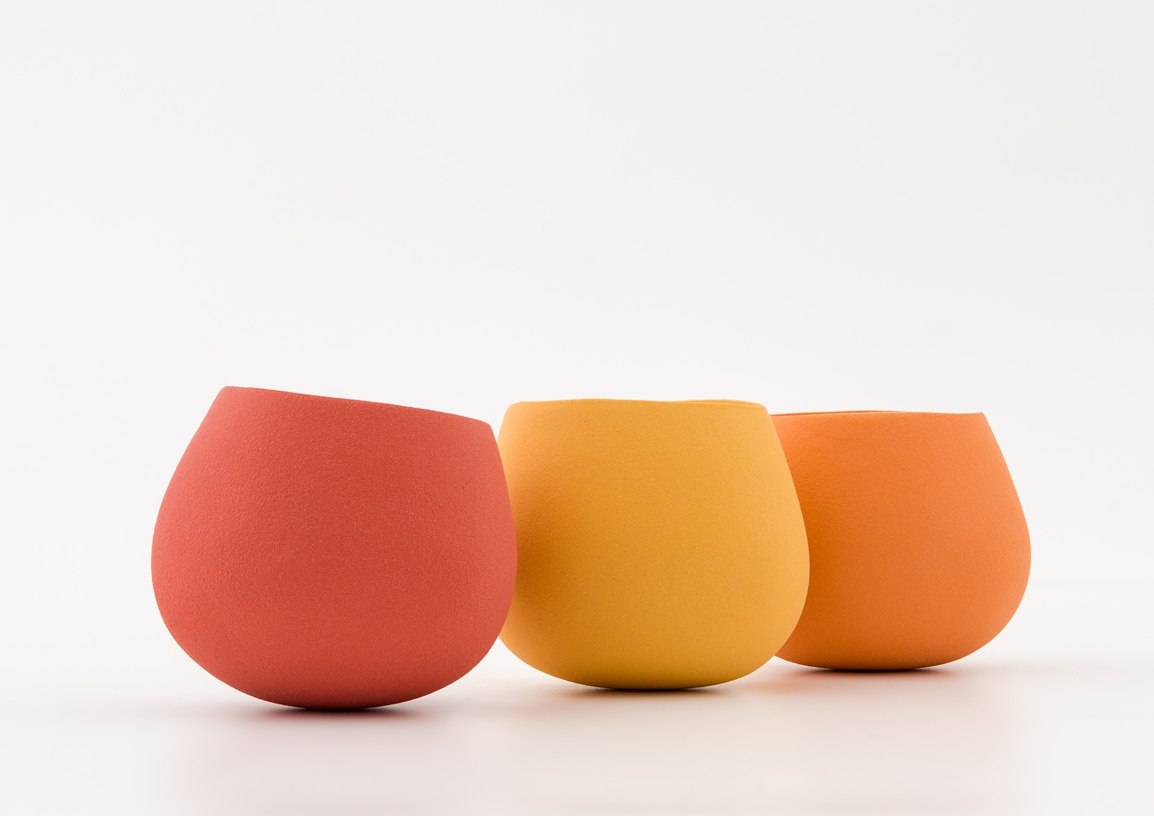 If you were stranded on a desert island, which ceramic object would you take with you?
That's a difficult one!  Perhaps a piece by Rafa Perez… Or perhaps I should be more practical?
________________________________________________________________________________________________________________
Sara Moorhouse

.
What are you looking forward to most about the exhibition?
I am looking forward to showing work at this wonderful venue. As a ceramics student 13-14 years ago I would look in awe at the great work on display here, so it is a pleasure and honour to be showing my work in this exhibition. I am also looking forward to exhibiting with Maria Wodjat, whose work I admire for her use of colour and sensitivity to form and balance.

How did you get into making?
My first degree was in illustration in 1993, where the focus for my images was very much about colour. I then taught in a secondary school for six years before leaving to undertake an MA in ceramics at the University of Wales Institute Cardiff (now Cardiff Met). During this year I practiced throwing on the wheel and developed the theory and technique for my banded bowl forms. Following this, I applied for selling exhibitions, such as Chelsea Craft Fair, where I met gallery owners and began exhibiting through them.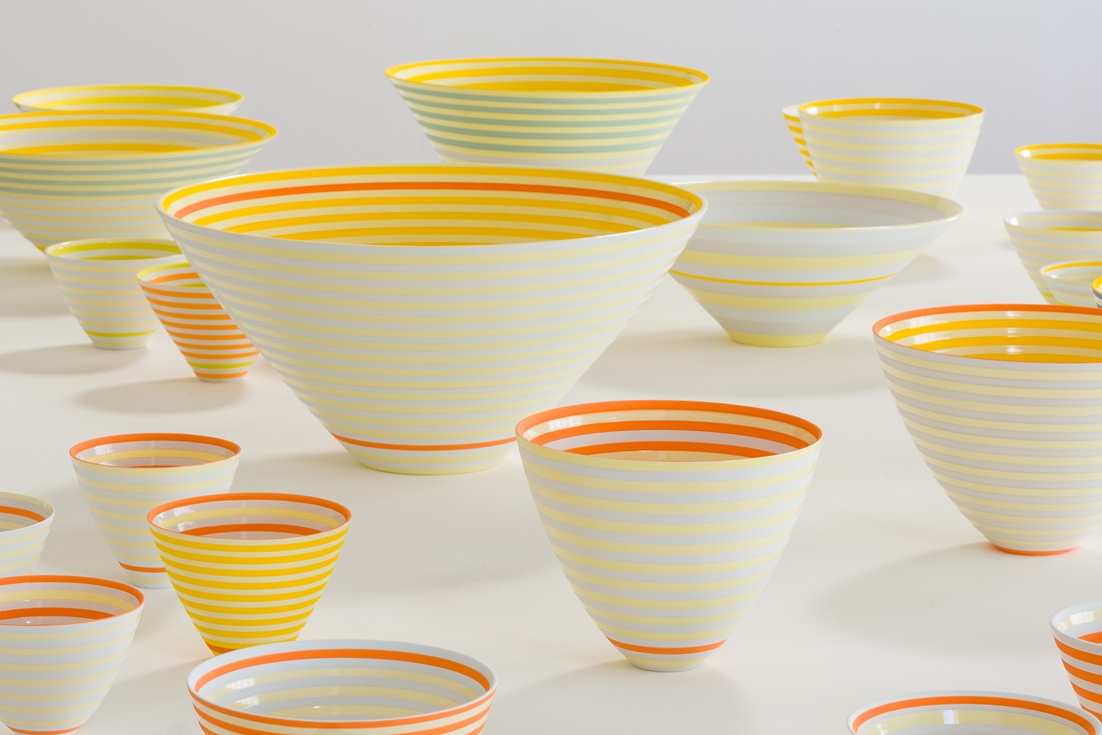 Where do you draw inspiration from?
I draw inspiration from the landscape. The first landscape to inspire me was the rolling, arable fields of North Nottinghamshire, where I am from. I noticed that, through farming, space is divided and colours are always changing, and that this significantly alters the appearance of landscape. For example, brown fields, lying dormant throughout winter, change dramatically with the arrival of spring and the brilliant yellow of oil seed rape, when the fields appear wider and more vast. This idea that colour could change the appearance of space and shape fascinated me and I applied it to the bowl form. Thus, the coloured bands are often a distillation and abstraction of a landscape scene, which alter the perception of the actual bowl shape. I have since drawn inspiration from other landscapes such as the seascapes of St. Ives, Cornwall, the Black Mountain in South Wales, the Yorkshire Dales and further afield such as the Rigi Mountain in Switzerland and Long Island, New York.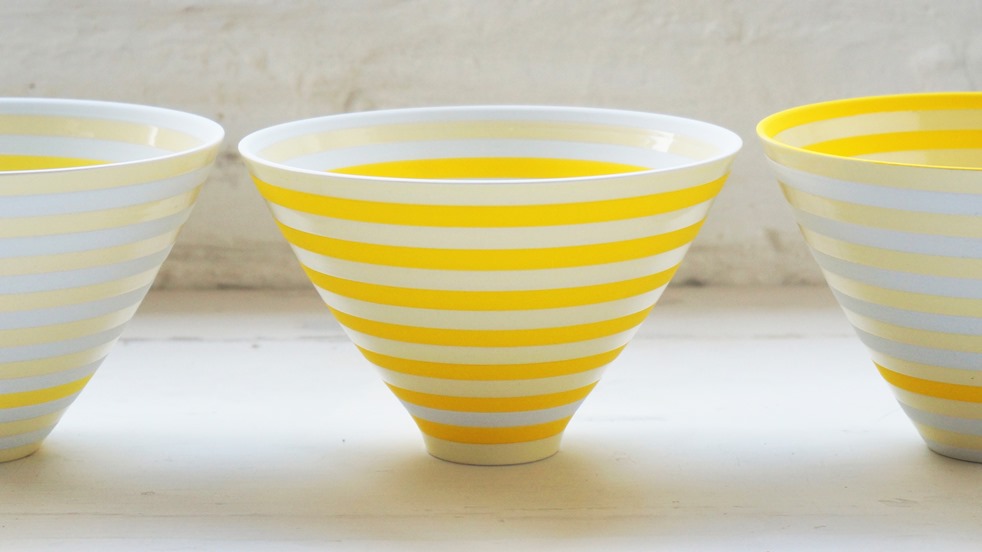 Can you describe your making process?
I throw the bowls on a wheel and then turn them. They are then bisque fired before being returned to the wheel and painted by hand with underglaze colours then fired again.
What advice would you give anyone looking to get into making ceramics?
Look around you to find what truly excites you every day. This could be visual and/or an idea that you keep coming back to. Look at ceramics but also look at other art forms such as painting, sculpture, fashion, theatre design, architecture etc. While it is important to look at the career paths of other ceramic artists, try not rely on them for your artist points of reference.
If you were stranded on a desert island, which ceramic object would you take with you?
A piece by Lucie Rie. Simple: understated, human, beautiful.
____________________________________________________________________________________________
Work by Maria Wojdat; photography Peter J Stone   |   Work by Sara Moorhouse; photography Steve Tanner
_____________________________________________________________________________________________
The exhibition runs from 15th June to 8th July. The show opens on Wednesday 14th June from 6pm. If you want find out more about Maria and Sara's work please click the gallery link below to visit the

Contemporary Ceramics Centre

website.